Vatsn Tecnic, a name of trust since 1984 in the field of rubber processing machinery. We manufacture rubber machinery located in Delhi and we also provide consultancy in buying/selling Used second-hand rubber processing machinery. We are known for manufacturing the best quality Rubber Vulcanizer autoclave having a compact structure, and a quick opening and closing door.
Vatsn Tecnic is a Delhi-based manufacturing company having warehouses across Delhi and N.C.R, where you can find the best second-hand machinery according to your requirements and you can choose from different available options, brands, and quality. We have ready-to-use refurbished second-hand rubber Vulcanizer autoclave as well as other machinery related to rubber processing industries of the best quality at reasonable prices.
Rubber Autoclave Vulcanizer Specification
Vulcanizing autoclaves convert natural rubber into a cured and cross-linked rubber product. Vulcanizing autoclaves can also cure plastics.
The shape of Rubber Vulcanizers is horizontal and circular. These are made in diameters ranging from 900mm to 2500mm and the lengths 1 meter to 12 meters as required.
Rubber Vulcanizer Autoclave is normally designed and works at a steam pressure of 5 Kg/cm² and is tested hydraulically before dispatch loading for a pressure of 7.5 Kg/cm²
Rubber Vulcanizer Autoclave consists Maximum Pressure Range:- 25 Kg/cm²
Quick-Lock Type design of Auto Clave Vulcanizer is specially designed and manufactured by using high-grade components and raw materials.
Depending on the type of rubber, the vulcanizing process can occur from room temperature 100°C to 210°C.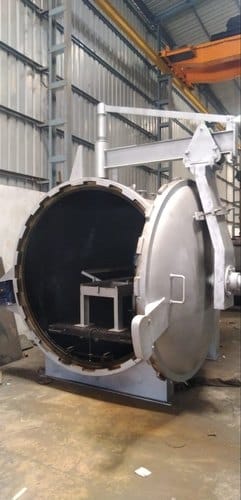 At Vatsn Tecnic, our motto is providing the best quality rubber processing machinery at the best prices. We manufacture top quality machinery of the rubber industry as well as buy/sell old machinery after refurbishing them with new parts and technology for the long run and sustainability at reasonable prices.
Why Rubber Vulcanizing Autoclave/Rubber Vulcanizer Used For?
Rubber Vulcanizing autoclaves can also be used to cure plastics including the soles of rubber mats, sleeves, joints, gaskets, shoes, hoses, hockey pucks, bowling balls, toys, tires, bouncing balls, and much more. Most of the rubber products manufactured are vulcanized.
Rubber and plastic Vulcanizing autoclaves use live internal steam, a mix of live steam and hot air, or hot-air only. Vulcanizing autoclaves are used in many products that are not completed the standard press-based compression molding process.
Vulcanized materials are less sticky and have superior mechanical properties.
Vulcanizer working pressure from 5 kg/cm2 to 12 kg/cm2 for fast production of all types
Features of Rubber Vulcanizing Autoclave
Quick opening door
Basic temperature and pressure controls
Programmable logical door controller  (optional)
Special trolley and rail arrangement
Model
Internal Diameter Feet
Length
Feet
VAT-34
3
4
VAT-46
4
6
VAT-48
4
8
VAT-310
3
10
VAT-510
5
10
Steam working pressure: 50 psi
 
 
Hydraulic test pressure: 75 psi