Vatsn Tecnic is an experienced company working for almost two decades in rubber processing machinery sale and purchase. Vatsn Tecnic deals in all types of rubber Processing machinery like Hydraulic press, Rubber sheeting line, Rubber reclaims machinery, Rubber mixing mill, Rubber Reclaim Refiner Mill, etc. We also deal in a Rubber recycling mill commonly known as a rubber reclaim machine. A rubber reclaim machine is used to recycle waste rubber procured while manufacturing different rubber products which is then used to manufacture rubber sheets and other rubber products.
Vatsn Tecnic deals in new manufactured and used/second-hand machinery related to the Rubber industry, Footwear industry, and tire-tube industry. We are one of India's largest stockiest having in-house second-hand ready-to-use machinery related to the Rubber, Footwear & tyre-tube industry available time.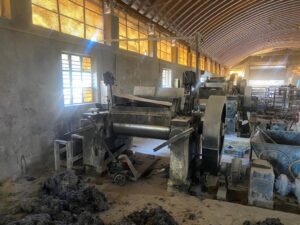 There are three different types of rubber Reclaim Refiner Mill
Rubber Reclaim-Crumb (Tyre & Other rubber waste)
Butyl Reclaim
Latex Reclaim
Rubber Refiner Mill/Reclaim sheeting machine is common in all three types of Reclaim Rubber.
Rubber Refiner Mill is used in the manufacturing of reclaiming crumb sheets which are used in different types of rubber industry products and footwear industry products like EVA sole recycling process.
Rubber Reclaim Refiner Mill Features
Rubber Refiner Mill ensures the proper removal of impurities from the reclaimed rubber.
When the rolls are set quite tightly to each other (i.e. close nip-gap adjustment of 0.05mm), refined rubber in thin-sheet form (~ 0.10mm) is produced
Speed ratio range from 1:1.75 to 1:2.50
The refiner mill is the most important machine required in a reclaim rubber project. The success of a good reclaim project mainly lies in the hand of a Rubber Refiner mill.
Rubber Refiner Mill is used in the reclaim rubber industry to produce smooth and homogeneous rubber sheets. Quality material in crumb/reclaim form is capable of performing numerous tasks once applied to a variety of end products as Mention Below
Refiner Mill Equipment:- Tailing knives, Scrappers, and Wind-up can be supplied optionally with each machine
Vatsn Tecnic is known for the production and manufacturing of quality Rubber refiner mills since 1983. We also customize and upgrade old/used Rubber Refiner and Pre Refiner mills with the latest technology like bearing-based functionality and we also provide repair and services for Rubber refiner mills.
Types of Reclaim Sheets from Rubber Refiner Mill
Extruded Products
Calendared Products
Tires & Tubes & Treads
Rubber Tiles Making
Rubber Mats Sheeting
Flooring Artificial Grounds
Heavy Weights used in Gyms
Rubber Automobile parts
Military parts
Footwear Industry
Rubber Conveyor Belts
V – Belts
Electric Shock Absorber Sheets
And others etc.
Rubber Reclaim Refiner Mill Classification
STAND: –Graded Steel Casting (Ultrasonic Tested)
HOUSING: –Graded Steel Casting (Ultrasonic Tested)
CAP: –Made of Mild Steel (MS)
BASE: –Fabricated Construction in Single Piece
ROLLS: – Chilled Cast Iron Hardness 500- 540 Bhn
BEARINGS: –Antifriction Spherical Roller Bearings
GREASE LUBRICATION: – Automatic Force Feed With Help of Grease Pump
GEARBOX: –Heavy Duty Inline Helical Gearbox of Standard Make
MOTOR: –TEFC Energy Efficient Motor of Standard Make
NIP ADJUSTMENT: –Gearbox with Hand Wheel
Electric Control Panel: Star Delta Electric operating panel with Voltmeter, Ammeter Overload protection relay, and Emergency switch 3 phase indicator arrangement.
We are the top Manufacturers and Suppliers of Rubber Refiner Mills in India. We Deal in both Second Hand/Used Refurbished Rubber Refiner and Pre Refiner Mill as well as New Rubber Refiner Mills as per clients' requirements. Demand for second-hand/used Rubber refiner mills is high due to low prices, refurbished quality, and ready-to-use conditions; hence we also deal in second-hand/used quality machinery.
Rubber Reclaim Refiner Mill Benefits
Universal nip roll adjustment.v  
Roller revolution on Anti-friction Roller Bearings.
Uni-drive system through specially designed coupling.
Use of Branded Gearboxes i.e. Elecon/Shanti/Greaves.
Power saving.
Dust stops roller guides.
Zero maintenance.
Steel cast and fabricated stands & caps.
Better production results Insights.
Smooth & hassle-free performance
Compact Construction
Premium quality at the Best Price
High energy efficiency Good Saving
Reasonable pricing Of Refiner Mill
Technical Specifications
Model

Chilled Rolls Barrel Dimensions

Process

Capacity Per Batch

Required Motor

 

Dia Front

Dia Rear

Length

 

Appx. Kg / hr

HP

VAT-RFM-1

12″

16″

30″

Continuous

45 ~ 70

40

VAT-RFM-2

14″

18″

36″

Continuous

90 ~ 120

60

VAT-RFM-3

16″

18″

42″

Continuous

150 ~ 170

75

VAT-RFM-4

21″

24″

36″

Continuous

250 ~ 350

100
For More Information
Follow us on Facebook, Instagram, and Linkedin