Vatsn Tecnic is an experienced company working for almost two decades in the buy and sell of rubber processing machinery. Vatsn Tecnic deals in all types of rubber Processing machinery like Hydraulic press, Rubber sheeting line, Rubber reclaims machinery, Rubber mixing mill, etc. We deal in new rubber processing machines as well as we sell/buy Used | Old | Second-hand rubber processing machinery. Conical Twin Screw Extruder Hooper | Conical Twin Screw Force Feeder | Conical Twin Screw Extruder Sheeter are very beneficial for industries.
Vatsn tecnic deals in various newly manufactured as well as used old/second-hand twin-screw hopper/extruder. Twin-screw extruder sheeter plays a major part in rubber sheeting lines and it helps in replacing dump mixing mill and sheeting mixing mill. The dispersion kneader feeds material directly to the twin-screw hopper through the bucket conveyor. Further, the Twin-screw hooper feeds material to two rolls of the calender for sheeting.
Twin-screw hopper feeder is used in single-color EVA sole sheeting as well as two colors Eva solitary sheeting line.
Conical Twin Screw Extruder Hooper Specification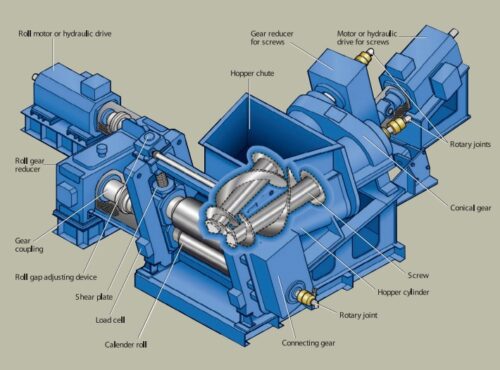 Twin Screw Sheeting replaces the dump-mixing mill and sheeting line mixing traditional mill combination in rubber mixing line, Common for conventional and diverse applications including tire manufacturing, custom rubber compounding, hose & Conveyor belt manufacturing, and technical rubber Extruded and Molded goods production.
Twin-screw extruder feeder helps in transporting, compressing, mixing, shearing, heating, cooling, pumping, shaping, etc. The major benefit of intermeshing twin-screw extruders is their remarkable mixing capability holds a major part in rubber sheeting lines.
During the rubber mixing in the conical twin Screw extruder process, the rubber material is processed through a conical twin-screw extruding feeder machine which is very similar to a single screw rubber extruder in the rubber extrusion process.
Rubber twin-screw extruders consist of a heated shearing screw conveyor or twin-screw conveyor and a die through which it passed and pressure pushes the rubber in squeezed shape.
The rubber then emerges from the extruder in a profile resembling the die shape.
Rubber profiles may be extruded to small, complex hollow P-strips, sealing strips, U-channels, and door seals, or they may be extruded into simple solid rubber cords.
Conical twin-screw hopper – Square or rectangular with sloped bottom and limited storage capacity
Several factors must be considered when designing a screw feeder, including continuously transport the raw materials and have a self-cleaning function. The raw materials go through the force feeder, then continuously and uniformly feed to the extruder.
We are the large stockiest of Used and second-hand Conical Twin-screw feeder hoopers having in-house second-hand/used and refurbished ready-to-use conical twin-screw extruder hoppers available every time.
Benefits of Conical Twin Screw Sheeting Feeder
Energy Saving
Saving Manpower Labor
Reduced Contamination
High Mixing Line Efficiency and Productivity
Effective Temperature Control
Compact Layout
Easy Maintenance
Conical twin-screw extruder Feeder Hooper
Screw made of Alloy Steel material Nitra hardens and Grinds the surface having a hardness of 58 ~ 60 RC. The screw is designed with double-pitched special thread.
Feeder body: Polishing treatment on the inner side, hard chromate treatment, Strong and durable.
Feeder hopper: Polishing treatment in the inner side, hard chromate treatment, Strong and durable.
Rubber Conical Twin Screw Extruder for Uses
Rubber: All kinds of rubber
Plastic and Rubber compound: TPE, TPR, TPU, TPV, EVA…
Rubber granulating, plastic modification, coloring, functional masterbatch, high filler, and rubber plastic compounding, etc.
Suitable machine for Conical Twin-screw force feeder | Conical twin screw force feeder Hooper normally connects with
1, Kneader/ Banbury + Conical twin screw force feeder
2 High-speed mixer + conical twin screw force feeder
3 Conical force feeder + Single screw extruder
4 Conical force feeder + Twin screw extruder
5 Conical force feeder + Calendering machine
Vatsn Tecnic deals in new manufactured and used/second-hand machinery related to the Rubber Industry, Footwear industry, and tyre-tube industry. We are one of India's largest stockiest having in-house used | old | second-hand ready-to-use machinery related to Rubber processing machinery, Footwear & tyre-tube industry available time.
For More Information click below the link