Vatsn Tecnic is a Rubber Strainer Machine Manufacturer Since 1983. We are perfect in this specialization and we are also the vendor manufacturer of machinery and wholesaler. We also provide complete guidance for different rubber projects.
We are connected to multiple machinery manufacturers, rubber consultants, and machinery stockiest all over the world. We are a manufacturer of new machines and wholesaler of used/second-hand rubber machines.
We stock used/second-hand machinery and manufacture different machinery like- rubber mixing mill, two roll rubber mixing mill, rubber processing machinery, rubber grinder mill, cold feed rubber extruder, hot feed rubber extruder, rubber dispersion kneader machine, stock blender, rubber calendering machine, rubber strainer machine reclaim rubber machinery, rubber refiner mill, strainer extruder, rubber sealant extruder, Pin Barrel Rubber Extruder, silicon rubber extruder, rubber bale cutter, rubber autoclave, rubber molding hydraulic press and tire machinery.
A rubber strainer can filter various rubber compounds, such as Reclaim Rubber, butyl rubber, fluorine rubber, and silicon rubber, and strain plastic and rubber mixture.
Rubber Strainer Machine With Double Straining Heads Filter oversize and unwanted material from reclaimed rubber using fine mesh through the Filter head.
Silicon Rubber Straining Extruder helps in proper recycling and also in removing contamination from huge waste rubber stocks. The rubber Filtration Strainer machine can strain the rubber compound after adding an accelerant. Rubber Reclaim Sheet Extruder is with humanized design and easy to operate, less force to open ram head, comprehensive safety control, and impressive notice to ensure better security performance.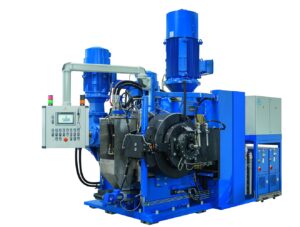 "The strain accuracy is up to 200 meshes
Our firm offers extruders for Rubber Strainer of sizes 150 MM to 200MM."
The Rubber Strainer is used to strain impurities out of rubber compounds.
Specifications: There are various specifications of the Rubber Strainer Filter machine like:-
Gear Box: Graded C.I. Casting housing
One Spherical Roller Thrust Bearing and one three-piece thrust bearing for preloading of the main bearing.
Gears: – Helical Gears
The helical teeth gears are of graded steel casting/forgings. Hardened, tempered, and lapped gears are also available.
Worm: – Material
EN-8/9, EN-19, EN-24, EN-41B material.
The worm: available in
a) Hardened, tempered and ground
b) Hard surfacing, duly profile ground.
c) Profile ground and gas Nitrided.
Sleeves: Sleeves fitted in sleeve-body with water cooling jacket
a) Alloy chilled C.I. Material
b) EN-8/9 hardened, tempered, and ground
c) Gas Nitriding
Application Areas Of Rubber Strainer Machine:-
Auto Tube
Reclaim Rubber
Plastic
Construction
Automotive
Engineering
Advantages:-
1. Easy to handle
2. Low Power Consumption
3. Rust-proof machine
4. Low-cost maintenance
5. Low investment
6. Save labor work
7. Time-saving equipment 8. Increase productivity
Specifications:-
| | | | | |
| --- | --- | --- | --- | --- |
| Model | Screw Diameter (mm) | Screw Rotation (r/min) | Max.Output (Kg/h) | Motor Power (KW) |
| VAT-150 | 150 | 45 | 400 | 40 |
| VAT-200 | 200 | 45 | 800 | 60 |
| VAT-250 | 250 | 45 | 1200 | 90 |