About Vatsn-Tecnic
Vatsn-Tecnic a firm established in 1983, started from Delhi, dealing in the buy | sell rubber allied industries machinery like cow mat making machine price in India. Over the period we have provided premium services related to the sale and purchase of machinery and services related to maintenance and repairs. Over the period we have come across many developments in technologies like automation of manual machines and innovations in machinery related to rubber allied machinery.
Our team of expert engineers is more than capable of providing solutions related to every type of machinery whether machines of new technology and automation or old manual machines. We have vast experience in the sale and purchase of every kind of rubber allied machinery for years. Over the years, we have been providing trading as well as manufacturing services to our customers all over India in states such as Kottayam Kerala, Mumbai, Chennai, Banglore, Gujrat, etc.
Our specialization is in providing a good number of options of required machinery so you can choose the best machinery as per your requirement. Our network is spread throughout India and we have collaborations with companies and manufacturers related to rubber allied industries.
Over the period we have provided our support and services to customers all over India and help them set up complete Rubber Mat manufacturing units. We provide different types of machines and components required in establishing a complete Rubber Mat manufacturing unit as per our customer's requirement be it second-hand/used machinery or brand new machinery customized as per your requirement.
We specialize in the sell and purchase of a fully automated line of rubber mat-making machinery as well as the manufacturing of new machinery according to the requirement of your production unit.
Machinery Used in Rubber mat making – Full Automated line
1.Rubber mixing mill: –
This machinery is one of the most important machinery for rubber allied industries. We at VATSN-TECNIC, deals in the sell | purchase of rubber processing machinery and rubber products manufacturing machines in India. We also sell/purchase rebuilt, recondition, and refurbished rubber processing machinery and rubber products manufacturing machines in India.
These Mills ensure perfect and uniform blending of natural and synthetic rubber. A rubber base material is mixed with several additives, such as fillers, softeners, processing aids, and colorants here. The two rolls of the rolling mill rotate in the opposite direction. To mix, one roll runs faster than the other one (Friction Ration of Rolls: – 1:1.2). Therefore, shearing forces act on the rubber in the nip between the two rolls. Two Roll Mixing Mills are equipped with a specially designed Stock blender to assist the operator in mixing the rubber material and chemical powder.
We sell/purchase used/second-hand machinery. Our experienced engineers, provide services for automation and up-gradation of technology of old manual machines like bush drive into bearing drive, bull gear motion into a uni-drive machine. We also provide spare parts for mixing mills like gunmetal bush, gearbox, driven gears, etc.
2.Kneader:-
Dispersion Kneaders are specially designed for mixing a variety of materials ranging from low viscosity adhesive to high viscosity polymers. These versatile machines can be used in both rubbers as well as plastic industries. Dispersion kneaders perfectly control the mixing and blending of raw material to form a uniform compound mixture ensuring better dispersion.
The machine consists of a mixing chamber fitted with rotary blades, made of high-grade steel. Mixing of the raw material takes place in this chamber, the blended compound is then cooled with the help of water. The mixing chamber comprises a pneumatically or hydraulically controlled pressure lid, which helps to maintain pressure on the raw material during mixing. The ease of cleanliness on this machine particularly once they have to be compelled to modification the color of their compounds oftentimes.
These machines are simple to work and their varied applications embody Natural Rubber like IIR, SBR, CR, EPDM, element Rubber, synthetic rubber. Rubber Tires, Packing Gaskets, Hose, Belts, Shoe Sole, Sponge, electrical Wire Covering, Casters, Golf Balls, Oil Seal, etc. Some more examples are weather Strips, Water Proof Sheet, EVA, Thread Compound Battery Containers, Oil seal, Body seal, Gasket, Belt, Hose, Tube for cars Rubber for electrical wires Conveyor Belts & Power transmission belts. This machine is also used for Rubberized Rolls Rubber primarily based product like Plug, Cap, Glove, Dental for Medical line equipment sort of a rubber ball & Other Plastic Compounds.
Vatsn-Tecnic has been providing premium quality Old/Second hand/Refurbished/Reconditioned Rubber Dispersion Kneader for Sale in India for years now. Our Old/Second Rubber Dispersion Kneaders are available in-house for sale in cities like Delhi, Mumbai, Chennai, and Kottayam.
3.Bucket Conveyor:-
Like the bucket elevators, the bucket conveyors provide you with secure product handling but these are mostly focused on moving horizontally than moving vertically. This bucket conveyor has a continuous row of overlapping buckets at the base and it allows multiple or single selective discharge stations so that the system can be used to recombine or split the production lines. There are different specifications for this system.
At Vatsn Tecnic you will get the best machinery as we are the leading bucket conveyor manufacturers. We design our machines in such a way that it provides you with maximum benefit.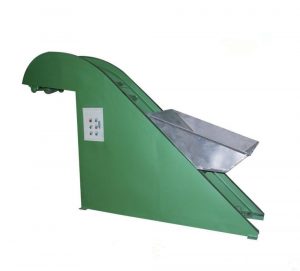 4.Twin Screw Hooper:-
Twin Screw Sheeter replaces the dump-mill and sheeting mill combination in a traditional rubber mixing line. It is ideal for conventional and diverse applications including tire manufacturing, custom compounding, hose & belt manufacturing, and technical rubber goods production.
Hence, a twin-screw extruder can ensure transporting, compressing, mixing, cooking, shearing, heating, cooling, pumping, shaping, etc. with a high level of flexibility. The major advantage of intermeshing co-rotating twin-screw extruders is their remarkable mixing capability which confers exceptional characteristics to extruded products and adds significant value to processing units.
During the rubber extrusions process, the rubber material is processed through a screw extruding machine very similar to those used in extruding plastic.
Vatsn-Tecnic has been providing premium quality Old/Second hand/Refurbished/Reconditioned Rubber Twin-screw Hooper for Sale in India for years now. Our Old/Second Rubber twin screw extruder / Sheeter / Hooper is available in-house for sale in cities like Delhi, Mumbai, Chennai, and Kottayam.
5.Calender with Pneumatic cutting conveyor: –
Calendaring machine is used for the finishing method utilized in the producing business to form superior rubber. It is further used in a product like gaskets, seals, and O-rings. Instead of exploiting normal rubber to supply products like these, producing firms typically use calendared rubber. Each normal rubber and calendared rubber still include an equivalent basic rubber material, however, the latter sort offers many benefits over its counterpart.
By use of a Rubber Calendering machine, you can either plastic or rubber is ironed into textiles (cloth, fabric, and tire cord) forming composite sheets. Cloth and rubber or plastic material area unit capable of a series of rollers to flatten, smooth, and commingle the 2 or additional materials. Glossy sheets will have multiple layers of each the elastomeric and compound "Joined" along
We at VATSN-TECNIC, a rubber processing machinery seller and buyer in India, provides services for buying and selling refurbished, old and new rubber mat making machine in India like calendaring machine and it's maintenance services all over India. We are also expertise in providing consultation for such activities.
6.Hydraulic Press:-
Hydraulic presses are used to generate compressive force. It can be single or multiple daylights in Electrical/ steam/ Thermic fluid heated versions, single or Multi-Daylight presses, with Hand lever operation or Automatic PLC controlled. Hydraulic presses can be up stroking or down stroking molding hydraulic press as per application requirement. In compression molding, you place an uncured rubber profile in a heated mold. Then you soften the uncured rubber by the heat and press them forcing the rubber compound to fill the mold cavity. The rubber is thus made to conform to the shape of the mold and then you cure it to produce your finished article